Sarasas Ektra School conducted Father's Day activities to commemorate the Royal Grace of His Majesty King Bhumibol Adulyadej the Great, Boromnatbophitr (บรมนาถบพิตร), which took place on 3 and 4 December 2020 with Secondary students participating in the activities in the morning session on 3 December, Primary students in the afternoon session on the same day and Kindergarten students in the morning session of 4 December.
The activities began with Director Pisut Yongkamol, as president of the ceremony, offered garlands to Mother Mary and St. Joseph and also placed garland in memory of our late Sarasas Vice-president, Maria Pensri Yongkamol. After that Director Pisut read the Blessing to St. Joseph and led the recitation of the prayer 'Our Father, Who art in heaven,…'. Following that, the administrators, Catholic teachers and students offered roses to Mother Mary and St. Joseph.
The Director, administrators, Thai teacher representative, foreign teacher representatives and student representatives placed the flower pedestal trays in front of the image of His Majesty King Rama IX Maha Bhumibol Adulyadej the Great, Boromnatbophitr and the Director read the honorable blessing and sang the Royal Anthem together.
The Father's Day activities began with years full of memories. The song 'King in fairy tales' was sung, as was the song 'Still on my mind' together with a ballet performance. Then followed the song 'Once upon a time forever' and performances from the Storytelling competition with the theme of the 'Ethical story series inspired by King Rama IX'.
1. Foreign language learning:
Yr.1-3 level awards : "Story book reading competition"

| | | | |
| --- | --- | --- | --- |
| | Winner | Mstr. Pasit Thamvijit | Yr.1B |
| | Winner | Miss Zirou Chen | Yr.2G |
| | Winner | Mstr. Jeerapat Waraporn | Yr.3B |

Yr. 4-5 level awards : : "Story telling competition"

| | | | |
| --- | --- | --- | --- |
| | Winner | Miss Rinrada Indragarunwet | Yr.4D |
| | Winner | Miss Plaengpin Supraditarporn | Yr.5A |

Yr. 6 level awards : R.C.W. Writing competition under the theme of the "My Favorite Royal song"

| | | | |
| --- | --- | --- | --- |
| | Winner | Miss Sirikan Manasathit | Yr.6A |

Secondary :

| | | | |
| --- | --- | --- | --- |
| | Winner | Miss Chanamon Kasivate | Yr.8C |
2. Thai language
Yr. 1-3 level awards : Calligraphy competition under the theme of "The Royal Instructions'

| | | | |
| --- | --- | --- | --- |
| | Winner | Miss Patticha Enkvetchakul | Yr.1F |
| | Winner | Miss Natnicha Tanratanapatanakul | Yr.2F |
| | Winner | Miss Kawisara Unman | Yr.3D |

Yr. 4-5 level awards : : R.C.W. Writing under the theme of the " The Projects Father created, Thai people never forget

| | | | |
| --- | --- | --- | --- |
| | Winner | Miss Kochaphan Srivorakhan | Yr.4E |
| | Winner | Mstr. Pakorn Rattanapreechawong | Yr.5C |
| | Winner | Mstr. Natat Kittisarn | Yr.6C |

Yr. 7-9 level awards : Essay writing under the theme of "The Projects Father created, Thai people never forget"

| | | | |
| --- | --- | --- | --- |
| | Winner | Miss Marion Grace Montgomery | Yr.7D |
| | Winner | Miss Thanakotchaporn Kieosa-ard | Yr.8C |
| | Winner | Miss Chidchanok Boonprakongwong | Yr.9D |
3. Trivia Quiz Competition on Royal Projects Competition
Yr. 4-6 level awards : Trivia Quiz Competition on Royal Projects.

| | | | |
| --- | --- | --- | --- |
| | Winner | Mstr. Kalinkorn Khanthachavana | Yr.4E |
| | Winner | Miss Nachwaran Teetanawaj | Yr.5E |
| | Winner | Mstr. Apichai Chunchusakul | Yr.6B |

Yr. 7-9 level awards : Trivia Quiz Competition on Royal Projects.

| | | | |
| --- | --- | --- | --- |
| | Winner | Miss Chanamon Kasivate | Yr.8C |

Yr. 10-12 level awards : Trivia Quiz Competition on Royal Projects.

| | | | |
| --- | --- | --- | --- |
| | Winner | Mr. Pitchayapat Wareevanich | Yr.11B |
4. Art Section
Yr. 1-3 level awards : 'King Rama IX drawing Contest"

| | | | |
| --- | --- | --- | --- |
| | Winner | Miss Patticha Enkvetchakul | Yr.1F |
| | Winner | Miss Kittiya Laisuwan | Yr.2D |
| | Winner | Miss Ziyana | Yr.3F |

Yr. 4-5 level awards : : Cartoon drawing contest on 'The Royal Initiative Projects of King Rama IX'

| | | | |
| --- | --- | --- | --- |
| | Winner | Mstr. Traikhun Thavara | Yr.5B |

Yr. 7-9 level awards : 'King Rama IX drawing Contest'

| | | | |
| --- | --- | --- | --- |
| | Winner | Mstr. Ratsaran Chenthitikul | Yr.8B |

Yr. 10-12 level awards : 'King Rama IX drawing Contest'

| | | | |
| --- | --- | --- | --- |
| | Winner | Miss Kirinee Wannavatakul | Yr.10A |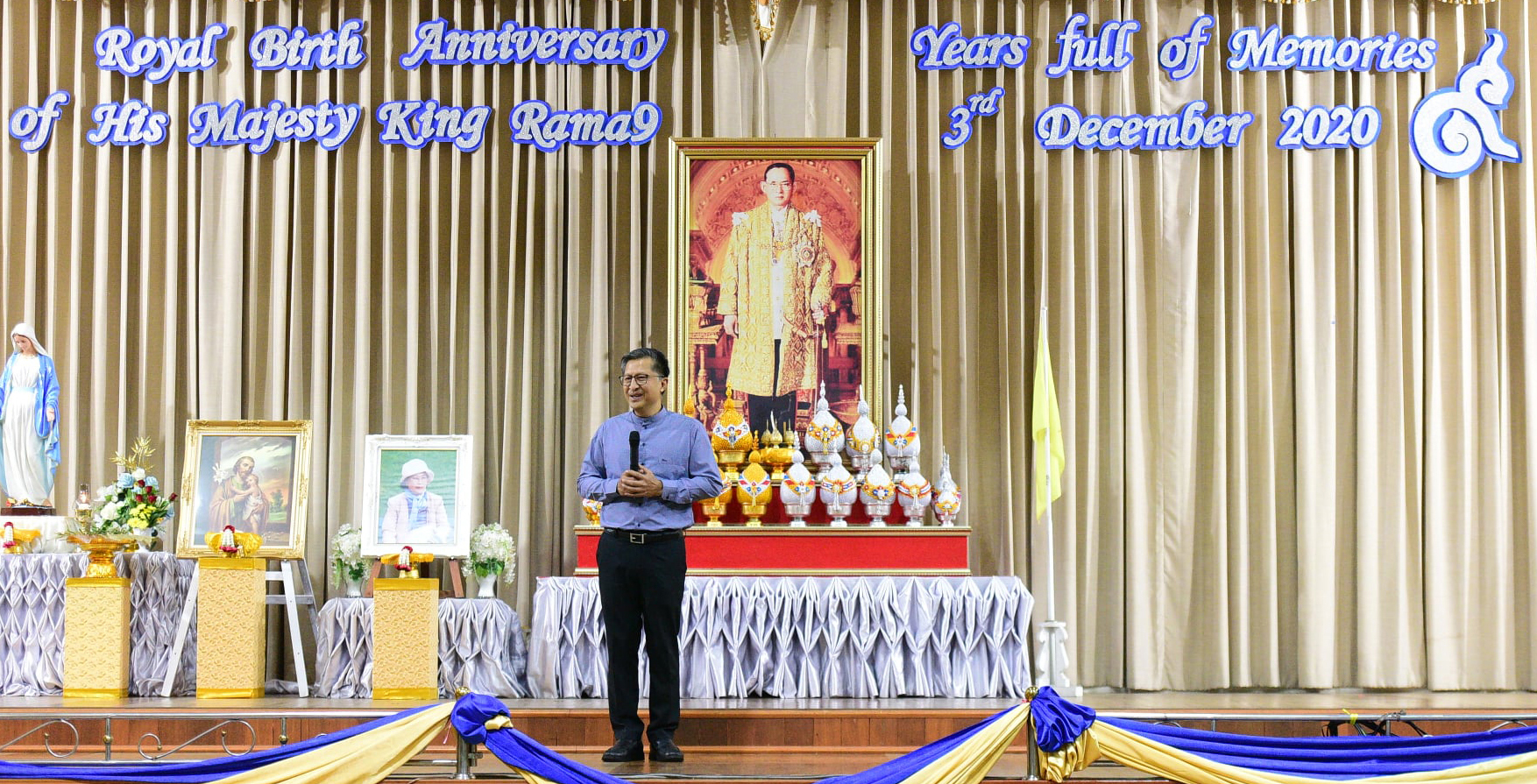 "Studying is like playing a game. You have to pass various levels, both easy and difficult. Students like the easy stages and do not like the difficult stages, but you have to pass all levels to get to the last level and complete the game. Compare this to the subjects you study. There are both easy subjects and difficult subjects. The easy subjects students will study well, unlike difficult subjects they don't like, but students have to study all subjects in order to graduate. All subjects are important to be able to apply in daily life in the future, such as Mathematics. Students may not like studying but when they grow up to be the head of the family they will need to use Basic Mathematics to calculate their cost of living to budget or build a house. I would like students to focus on learning in all subjects for your own benefit. When you have good basic and general knowledge it is also important to discipline yourself to be able to endure what you do not like. This way you will not be discouraged when obstacles arise and you will be able to overcome future problems. Therefore, I would like to request students to train yourselves to be self-disciplined. This is one of one of Ektra's characteristics and is an example for future generations of students. "