School History | Vision | Mission | Identity | Entity | Philosophy | Motto | Policies | Goals | Logo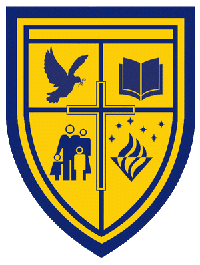 The cross
represents courage and perseverance in facing challenges and difficulties.
The dove
represents the new life and hope which education can bring us.
The open book
represents the academic pursuit of knowledge.
The group of people (teachers and students)
exemplifies the guidance, protection and support given to students by their teachers.
The flame below six stars
symbolizes the enthusiasm to develop six skills or attributes i.e. increasing one's knowledge, living morally, negotiating well, developing one's potential, conducting your actions with safety, and using your time wisely

School Colors
Yellow
is the color of sunshine, meaning happiness, brightness, intelligence and strength.
Blue
is the color of the sky and the sea, meaning thoughtfulness, stability, faithfulness and loyalty.
.