The Primary Department, Sarasas Ektra School, organised activities on 'Feast Day' and 'Wai Kru Day', Thursday 16th June 2016, to show respect to the Holy Mother Mary and Saint Dominico Savio, the Patron Saints of our school, asking for their blessings on all students, administrators, staff and members of the school community throughout the academic year.
It also marked the day, a lovely and long-held tradition, when students show their respect to their teachers. There were many shows during the ceremonies, including individual and choral singing, a drama about Dominico Savio's heroism, and a hip hop performance against "hate speech". The student representative, Mstr Naris Amantakul, from 6D, then to read a commitment with emphasis on stopping bullying.


Students performing...

the drama about Dominico Savio

Mstr. Chakorn Chuwongwan
Year 5A
Mstr. Ivan Luwongsupakit
Year 5A
Mstr. Phatra Phatrapiboon
Year 6C
Mstr. Yuto Tamari
Year 6C
Mstr. Choong Ho Lee
Year 6F
Mstr. Thaithep Jantalangsri
Year 5A
Mstr. Thun Photrithong
Year 6D
Mstr. Thanakorn Solberg
Year 6B
Miss Jessica Kate Mills
Year 4C
Mstr. Pichapop Jierapakdee
Year 6D

the "Stop Hate Speech" Dance

Miss Waranyaphas Kittipromphun
Year 6C
Miss Ahyun Kim
Year 6B
Miss Rasita Wongwattanapiboon
Year 6C
Miss Chananthorn Jakdedchai
Year 6C
Miss Natthanicha Thanadkit
Year 6C
Miss Sarin Sittajaruwat
Year 6C
Miss Rattanawalee Lin
Year 6B
Miss Youn Jae Seo
Year 6B
Miss Pimchanok Songkittiphong
Year 6C
Miss Ye Bin Mun
Year 6C
Miss Eun Yeong Cha
Year 6C
The Director's Speech:
'Feast Day & Wai Kru Day'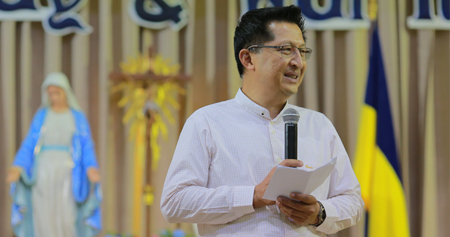 Good morning teachers and students. First of all I have to say that all of the performances today, including the singing, were excellent.
The other day, I went on to You Tube and came across the song that you danced to today. I couldn't believe you have done it this well, so elegant and meaningful. Just like Jack and the beanstalk, he planted it and waited for it to grow. However, it was taller than he expected; it went right up to the sky, not just two feet but taller and morebeautiful.
However, those who are not sitting here will never know what we have done today (singing, playing Thai and universal instruments together, and choral singing). They are all amazing. And I have to say that the sound system was great and everything else was balanced, making it comfortable and smooth to listen to.
I believe that no one else, neither a board of directors or teachers, could do better than we, Sarasa Ektra school's teachers have done. Therefore, you must be proud of yourselves and love what you do. Be proud of whatever good you have done, and own what may not have been so good. Just as one student said long ago, being a teacher you have to conceive yourself as a judge, a protector, a nutritionist, a policeman, a lawyer and sometimes their parents, even when you have never have your own children. Hence, today is another day that everyone realises the value of being a teacher, knowing that it is an honoured profession and that money is not the most important thing in life. Just think of when seeing ourselves in the mirror makes us proud and happy!
To all teachers and students, you have completed your duties today. One thing that I have to say is that whenever you come up here to sing or do anything, that's a precious time and for the students, you will know the meaning of 'loving, love yourself'. When the students have love, teachers give love, parents give love, we all have today because of love, shows and performances, songs and activities according to God's command that we must love and respect one another. When we follow all of the aforementioned, we will never fight or insult others. There will be peace in this world. And from this moment on, we will give a pledge as to give others respect and stop bullying. There will be only love and generosity. We hope we will get them back in return. Thank you.
.
Click on images to enlarge