On the 23rd of June 2016, Sarasas Ektra School held the Secondary Department Feast Day and Wai Kru ceremonies at the auditorium in Building 6. The purpose of this activity was to appeal to Mother Mary and Saint Dominico Savio, school patrons, to bless all administrators, teachers, students and school workers with safety, intelligence and vigor, all of which will make them efficient in doing their duties all through the year. The activities held were as follows.
The activity started with the Feast Day ceremony, which is compared to a housewarming ceremony. During the ceremony, administrators, teachers, students, alumni, workers, school van drivers and Catholic students made a procession to the stage to present flower garlands to Mother Mary and Saint Dominico Savio before proceeding with the book-anointing ritual. After that, the director gave new students' representatives holy threads, or sai sin, and pinned brooches onto batch 18 representatives' shirts and blouses.
Then the Wai Kru ceremony and activities started. Wai Kru, or paying homage to teachers, is intended to remind students of the favor and kindness of their teachers, who are both their educators and role models. During this activity, student representative led other students to recite an oath to their teachers before classroom representatives presented floral bowls to their class teachers. After that, students from the Drama Club performed a play on the theme "Stop Bullying", followed by a musical rendition by the school choir and orchestra. After the rendition, the winners of the floral arrangement and Thai manners competitions were announced. After the announcement, the Director delivered a speech to students. The activity "Together We Share Peace", which followed, marked the end of Wai Kru Day activity.


The following were the winners of floral arrangement contest.

Junior Secondary Level

Winner
First runner-up
Second runner-up
Year 8A
Year 8C
Year 8E

Senior Secondary Level

Winner
First runner-up
Second runner-up
Year 12D
Year 10B
Year 11A
The following were the winners of Thai manners contest.
Year 7
Year 8
Year 9
Mstr. Kittapas Thattanasombat Yr.7D
Ms. Alexis Sirisomboonwong Yr.7D
Mstr. Tranachol Wimolsajjarak Yr.8B
Ms.Kanyarat Euposin Yr.8D
Mstr.Pichailak Ngamprasert Yr.9E
Ms.Panida Areephongsa Yr.9D

Year 10
Year 11
Year 12
Mr.Kittin Khampruangdet Yr.10C
Ms.Rinrada Visetjindawat Yr.10A
Mr.Tanakorn Amorthan Yr.11A
Ms.Sutima Jittiratwattana Yr.11B
Mr.Thanin Limpiyawan Yr.12B
Ms.Busakorn Budsapathamrong Yr.12E
Director Pisut Yongkamol's Speech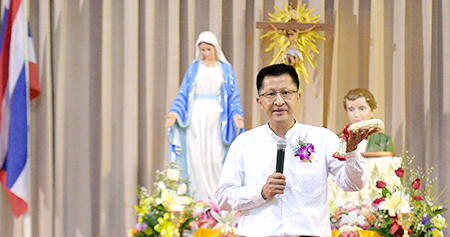 I am glad to have seen students arrange their floral bowls so well. You learnt many lessons from making them. One thing is cooperation. You might have argued with your friends or misunderstood them while designing your bowls, but the important thing is that you learned to become more mature by making these bowls. Like making the bowls, the "flower garlands", also taught you a moral lesson. These flowers were once alive, but are now lifeless because they were cut off to make festoons. They loved their lives and did not want their lives taken. Therefore, you should value and love your lives as they did.
You also learned another thing from these flowers. Though they were cut off from their branches, the remaining buds can sprout and continue to grow. This shows how resistant and tough they are. Moreover, I am glad to know that students were conscious of the importance of Thai culture and manners, both of which are unique identities typical of Thais and, hence, should be conserved.
Last but not least, I want to remind you that you cannot do whatever you want. You may be fed up with your studies or do not know what the point of studying is, but I have to remind you that studying is important to you because your knowledge will help you learn how to solve your problems. All in all, I want you to rethink what I've said. Thank you for your cooperation in helping one another accomplish today's activities. God bless you. I hope you flourished both mentally and intellectually. And I hope you will be successful in your studies and in your university entrance exams.
.
Click on images to enlarge