On Monday 1st July 2019 School organized the National Scout Day activity at the crescent court in front of the Dominic I Building, Primary Department in order to honor King Rama VI, the founder of the Thai National Scouts.
A teacher representative spoke about the History of St. George who is a patron and is a good example for the Scouts, then Miss Mauri Saito Yr.9C give the signal by bugle and the parade began. The purpose of the ceremony was to practice discipline and recite the Scouts' pledge. There was also a Haka and Cadance performance.
The results of the parade's marching competition were as follows:
The winners:
• Cub Boy Scout platoon Yr.3
• Cub Girl Scout platoon Yr.2
• Junior Boy Scout platoon Yr.5
• Junior Girl Scout platoon is Yr.6
• Senior Boy Scout platoon Yr.8 and yr.9
• Senior Girl Scout platoon Yr.9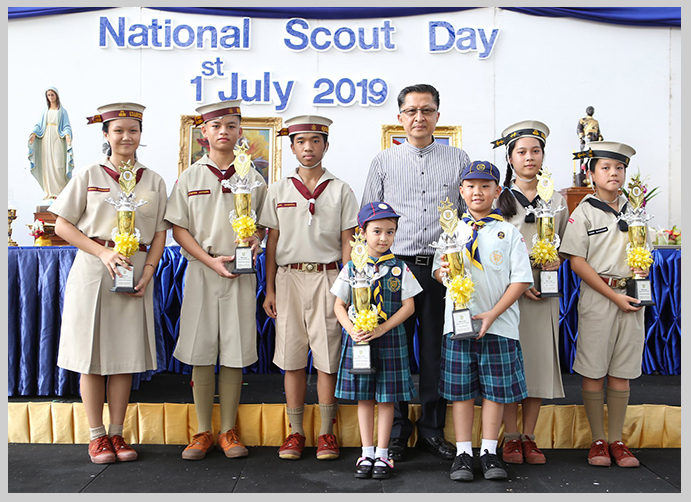 Director Pisut Yongkamol's Speech
Master has watched this parade for over 20 years and this year's is the most beautiful year for marching. It proves that if "Ektra students want to do something they can do it". It's hard to believe that our Cub Scouts are only Cubs because, although are small, they can march very smartly. I must compliment the teachers who trained their students so well.
I would like to leave with you an observation that in this world there is much hate, religious war, racial discrimination, and conflict all around, but I would like students to realize and understand deeply that our country is different from other countries. Although the weather is hot or it rains heavily, we don't have problems like many countries that have separation by race and skin colour. We have never had a civil war in this regard.
No matter how much time has passed, the unity of our people is the most important thing. Where there is there is no breakage. Unity comes from sacrifice. This means having Boy and Girl Scouts who are strong even when they feel tired, and have much patience. We have cultivated this sacrifice into our subconscious mind which will allow us to grow into quality adults who will help the country in all respects.
Today, to the parents that are present, we must thank you for your kindness. Your children are doing well both in marching and being self-disciplined. True discipline comes from the heart. It will help our children to grow into adults who show real leadership.
.