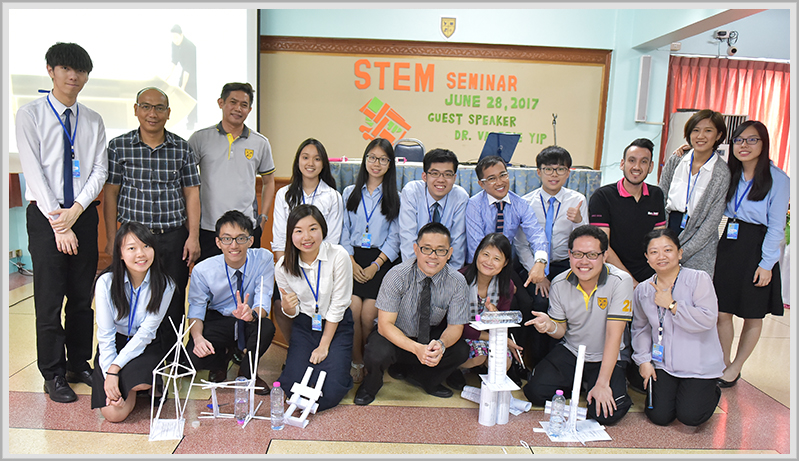 In the two weeks from 19 - 30 June, Ektra had the pleasure of hosting a group of eleven students and one lecturer from the University of Hong Kong (HKU). Dr. Valerie Yip, brought her talented student teachers over from Hong Kong and they were here as interns to observe and practice teaching Science under the guidance of four mentor teachers led by Mr. Jesse Litapon, Secondary Science Coordinator (English Program).
This is the second year that HKU and Ektra have collaborated together under the program "Summer Immersion 2017". Once again, it was very successful, both for the HKU interns and for Ektra's teachers and students. Not only did the interns have an opportunity to teach lessons, they also led several
extra-curricular activities
in our Secondary and Primary Departments. Several activities were conducted including; an
experiment workshop
for Years 2 and 3, a
food pyramid
activity for Year 4 and various 'Happy Friday' activities across both campuses.
At the end of their stay, the interns presented multimedia reports to Administrators, mentor students and their peers about their time at Ektra. On returning home, they presented these reports to senior administrators at their University.
Dr. Valerie Yip held a
STEM (Science, Technology, Engineering and Mathematics) Workshop
for Administrators, Science and Mathematics teachers and HKU interns on Wednesday 28th June 2017, in the Seminar room 7th floor of the Baptist building, Secondary Department. The aim of the workshop was for Dr Yip, to share her own experiences of how STEM Education is implemented within the Hong Kong Education system. She elaborated on several global misconceptions of STEM education and ran an informative and enjoyable STEM related activity.
Many thanks are due to administrators and mentors for their efforts in making this immersion experience successful. The interns built some wonderful relationships with our students and mentor teachers. The experience will surely be of great benefit for all involved and we hope that this collaborate will continue for many years to come.
.