This year saw the 5th generation of students graduate from the internationally recognized Global Assessment Certificate (GAC) program, at Sarasas Ektra School. The program itself is from ACT Education Solutions (AES) based in Sydney, Australia.
Hearty congratulations go out to all the students who completed the course of study, and are now moving on to life at university.
All of the students from GAC '5' should be extremely proud of their achievement in reaching this milestone in their young lives. It is a good reflection of the possibilities that are open to them when they put their minds to it, and, find the time and put in the effort to succeed. The skills they have learned over the past three years will stand them in good stead for their future time at university, and whichever career paths they choose.
Over the past few years, Sarasas Ektra School has achieved a 1st in a number of areas
• 1st school in Thailand to offer the GAC program
• 1st GAC school to be offered financial scholarships for students
• 1st school to have two students achieve a perfect GPA of 4.00 – two years running.

Well, now we have another first –
• 1st student to achieve the highest score in every module – Ms. Nicha Wilanan – over all three levels
o GAC001, GAC007, GAC014 – Listening & Speaking = top score
o GAC002, GAC008, GAC015 – Reading & Writing = top score
o GAC003, GAC013, GAC023 – Science = top score
o GAC004, GAC010, GAC016 – Mathematics = top score
o GAC005, GAC011, GAC017 – Computing = top score
o GAC006, GAC027, GAC028 – Social Science = top score
Pictured below is Ms. Nicha receiving her six 'best in subject' certificates from the school Director, Mr. Pisut Yongkamol.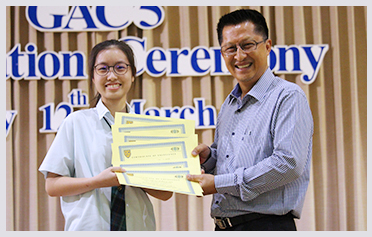 Ms. Nicha also received an award for achieving the highest GPA of the year, and a $500 financial scholarship from AES.

On hand at the graduation ceremony to present awards were the AES Group General Manager: Mr. Andrew Todd, and the Regional Academic Manager: Ms. Christine Hoe – pictured below with Ms. Nicha Wilanan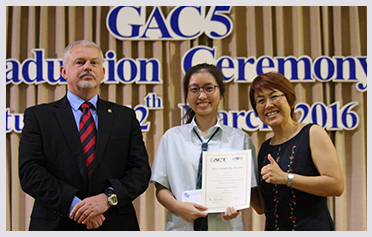 Congratulations to all GAC Generation '5' graduates – stand tall in the fact that you have achieved something very special for yourselves, and you have brought more success to, and further enhanced the good name and standing of, Sarasas Ektra School.
Mr. Phil Langley
GAC
.
Click on images to enlarge